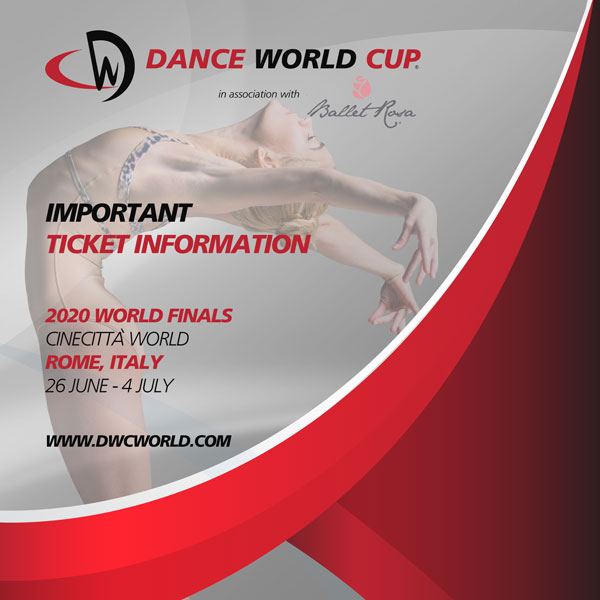 Please read this important information regarding DWC finals in Rome 2020.
All dancers that qualify and wish to attend the finals will be required to pay a total of 80 euros (this does not include your membership fee or dance fees)
The 80 euros will include:
20 euro park ticket (seasonal ticket) - the standard park entrance ticket is 59 euro but DWC is subsidising the fee so that all dancers pay only 20 euro pp. This ticket allows unlimited access to all rides and Cinecitta shows within the amusement park for one whole year.

Access to the DWC app to view the live schedule , with your own entries/schedule/results, digital certificate and more.

Three solo/duet/trio and group/school portrait photographs taken at our dedicated portrait area in the park.

All video and photographs of the competition from our dedicated DWC photography team.

Live streaming of the event on your own personal page. Your unique membership number will also allow you access to the live streaming on up to 5 devices

Gala Foam pool parties on the gala evenings with a live DJ around the pool in Cinecitta World

Lanyard and membership card

Access to both theatres sessions 1 , 2 and 3, free of charge (subject to space.)
CINECITTA PARK ENTRANCE - SEASONAL
All parents and general public will be required to pay to enter the park in order to watch the competition.
Cinecitta World charge 59 euro per person to enter the park. This covers all the rides and attractions in the park. This is a seasonal ticket and will last for 1 year.
These must be bought through the DWC website which will take you to the Cinecitta World page. Please enter DWC in the promo box.
On presentation of these tickets at the DWC ticket desk within the park , you will be issued with a wristband that will allow you FREE entry to both theatres every day for sessions 1 , 2 and 3. These sessions will be on a first come , first service basis.
ATTENTION: IF YOU DO NOT ENTER DWC IN THE PROMO CODE WHEN PURCHASING YOUR SEASONAL PARK TICKET , YOU WILL NOT RECEIVE THIS SPECIAL OFFER.
There will also be an opportunity for you to purchase in advance a VIP seat for a cost of 10 euros per seat per session which will guarantee you a seat in our reserved seating area for sessions 1, 2 OR 3. These will be available once the final schedule has been set in the new year.
Session 4 ( each evening) will be a ticketed event at a cost of 5 euros per person. No VIP area available in this session. These tickets will be available each day at the DWC ticket desk in the park.
Please note: Dancers will be required to also purchase a ticket of 5 euro each if they wish to enter the theatre in session 4.
CINECITTA PARK ENTRANCE – DAY TICKET
There will also be a day only park ticket available at a cost of 24 euros per person. These tickets can be purchased at the park each day at the Cinecitta ticket office.
On presentation of this ticket at the DWC ticket desk, each person with a day ticket can watch the competition on both stages, sessions 1,2 and 3 for a cost of 8 euros for the day.
Session 4 tickets will be 5 euros per person, as above.
TEACHERS
DWC will subsidise the entry fee for the 1st teacher in each school that bring 15 students or more to the finals.
Other teachers attending must pay an entry fee to the park which is a DWC subsidised fee of 42 euro. Maxium 5 teachers per school – 1 teacher per 10 students.
This fee will be added to the dance school account once the school has registered the dance teachers that will attend the finals.
Teachers will receive a wristband that they will wear all week which will allow them free access to both theatre for all 4 sessions per day. (this does not include the gala performances).
All other teachers must pay 59 euros quoting DWC in the booking process for a seasonal ticket or a 24 euro for a day ticket to enter the park as per the general public.