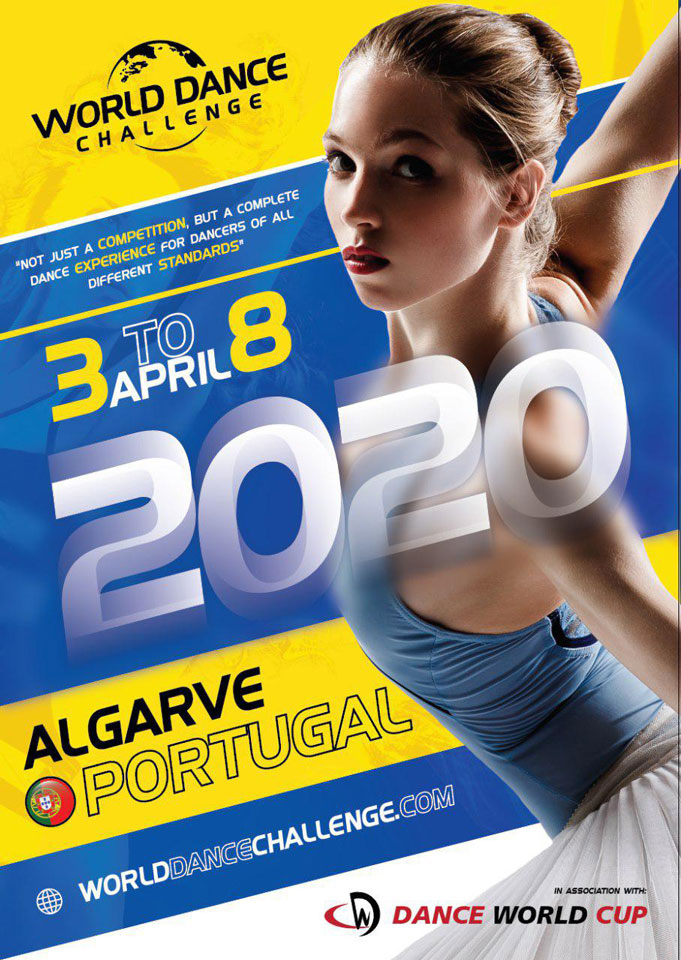 World Dance Challenge - Experience It All
World Dance Challenge is a new and exciting International dance event for dance schools. A complete dance experience for dancers of all different standards. COMPETE in multiple rounds against dancers from all over the world. LEARN and improve your skills by taking various Masterclasses, Workshops and more with leading dance experts. ENJOY traveling to a new destination, opening ceremony, DJ parties, day tours and fun with your friends and family.
How does it work?
• Qualify either at your Live Country Audition, Online Video Audition or through a Dance World Cup live qualifier.
• Dancers who qualified wishing to compete at the World Championships are then required to select one of the affordable dancer's packages. There are optional packages for supporters as well. The packages include accommodation, tickets, workshops, team jackets, photos and videos of your performances and much more.
• Travel to Portugal where the WDC World Championships will be held from 3 to 8 April 2020 at a breath-taking resort in the Algarve. Spend some optional extra time after the event during Easter weekend in Portugal exploring this beautiful country.
• Compete in the first round, the Challenger round. If you receive a top placing, you move through to the Finals round. The top 20 routines from the Finals round then move on to the Grand World Champion round where massive cash prize and awards are up for grabs. During all the rounds there are prize giving's with awards.
• During the competition there are various Masterclasses, Workshops, Choreography classes in different genres and skill levels, as well as Teacher Seminars and Motivational Speeches presented by leading international dance experts. All included in the packages for dancer and teachers.
• In between all the dancing, take some breaks and enjoy day tours and excursions to beautiful surrounding destinations with family and friends. Visit the beach, relax at the pool and enjoy the DJ parties at night. The Opening Ceremony will surely be a highlight, making memories that will last forever.
Website : http://worlddancechallenge.com/