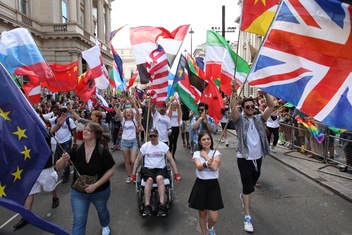 The 2017 Dance World Cup opening Ceremony will be held at the evening of 23 June 2017 Marketplatz, Offenburg, Germany
IMPORTANT UPDATE : At this event ALL participants from all countries are invited to perform a dance together. It is called "Rhythm in my Feet" and you find it here:
You will first see it with a group of children, and afterwards you will see it again, however, without music, slightly slower, and from the back side. This will perhaps make it easier for you to teach it to the children.
We kindly ask you to pass this information on to all dance schools of your country so that really all participating children will know the choreography when coming to Offenburg. At the Opening Ceremony we suggest that the children wear any kinds of comfortable shoes but not ballet slippers since the dance will be performed on the pavement.

Followed by Dance Impact at 20:30.