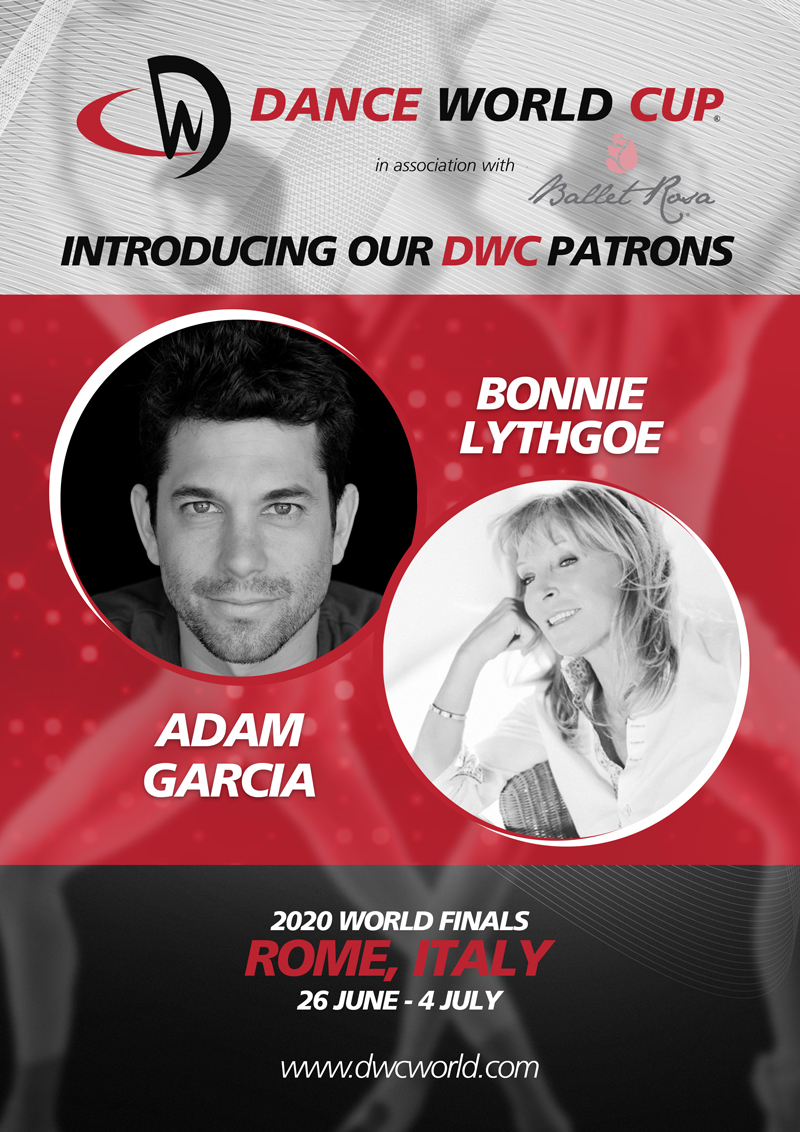 Dance World Cup are so excited to introduce you to our DWC Patrons.
We are honoured to have these talented people represent our competition and we welcome them both to Dance World Cup 2020.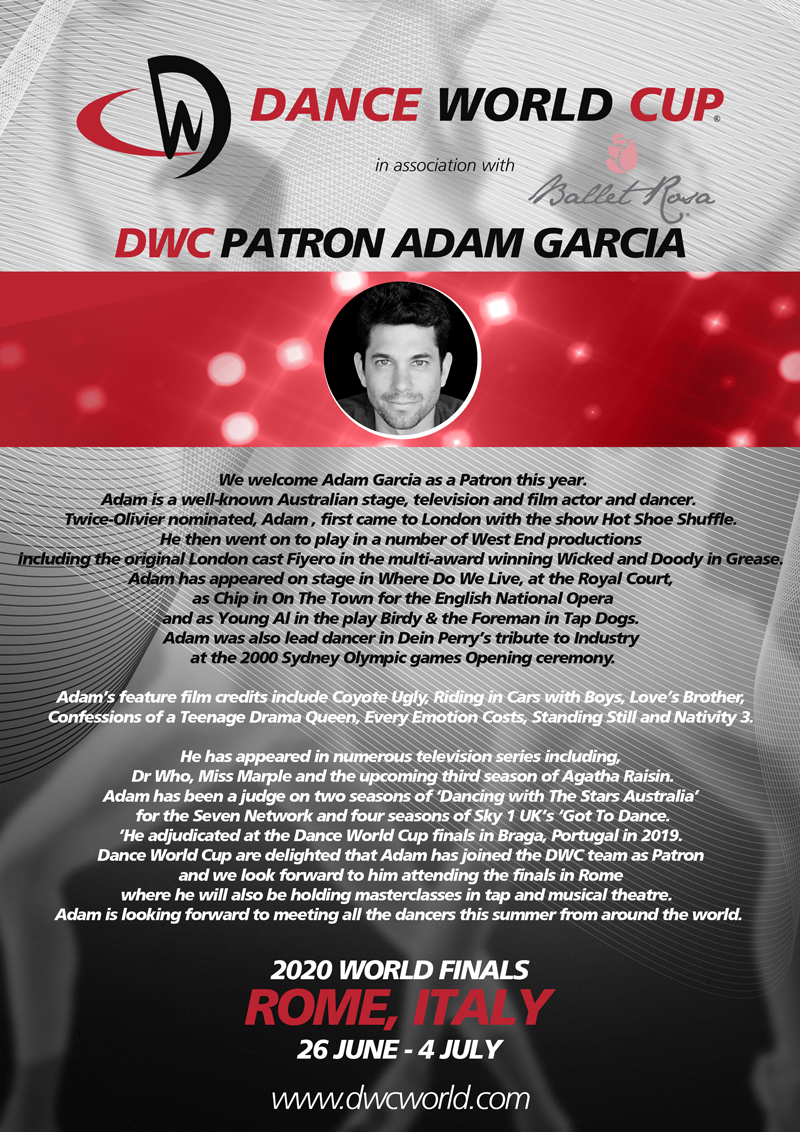 We welcome Adam Garcia as a Patron this year.
Adam is a well-known Australian stage, television and film actor and dancer.
Twice-Olivier nominated, Adam, first came to London with the show Hot Shoe Shuffle.
He then went on to play in a number of West End productions including the original London cast Fiyero in the multi-award winning Wicked and Doody in Grease.
Adam has appeared on stage in Where Do We Live, at the Royal Court, as Chip in On The Town for the English National Opera and as Young Al in the play Birdy & the Foreman in Tap Dogs.
Adam was also lead dancer in Dein Perry's tribute to Industry at the 2000 Sydney Olympic games Opening ceremony.
Adam's feature film credits include Coyote Ugly, Riding in Cars with Boys, Love's Brother, Confessions of a Teenage Drama Queen, Every Emotion Costs, Standing Still and Nativity 3.
He has appeared in numerous television series including, Dr Who, Miss Marple and the upcoming third season of Agatha Raisin.
Adam has been a judge on two seasons of 'Dancing with The Stars Australia' for the Seven Network and four seasons of Sky 1 UK's 'Got To Dance.'
He adjudicated at the Dance World Cup finals in Braga, Portugal in 2019.
Dance World Cup are delighted that Adam has joined the DWC team as Patron and we look forward to him attending the finals in Rome where he will also be holding masterclasses in tap and musical theatre.
Adam is looking forward to meeting all the dancers this summer from around the world.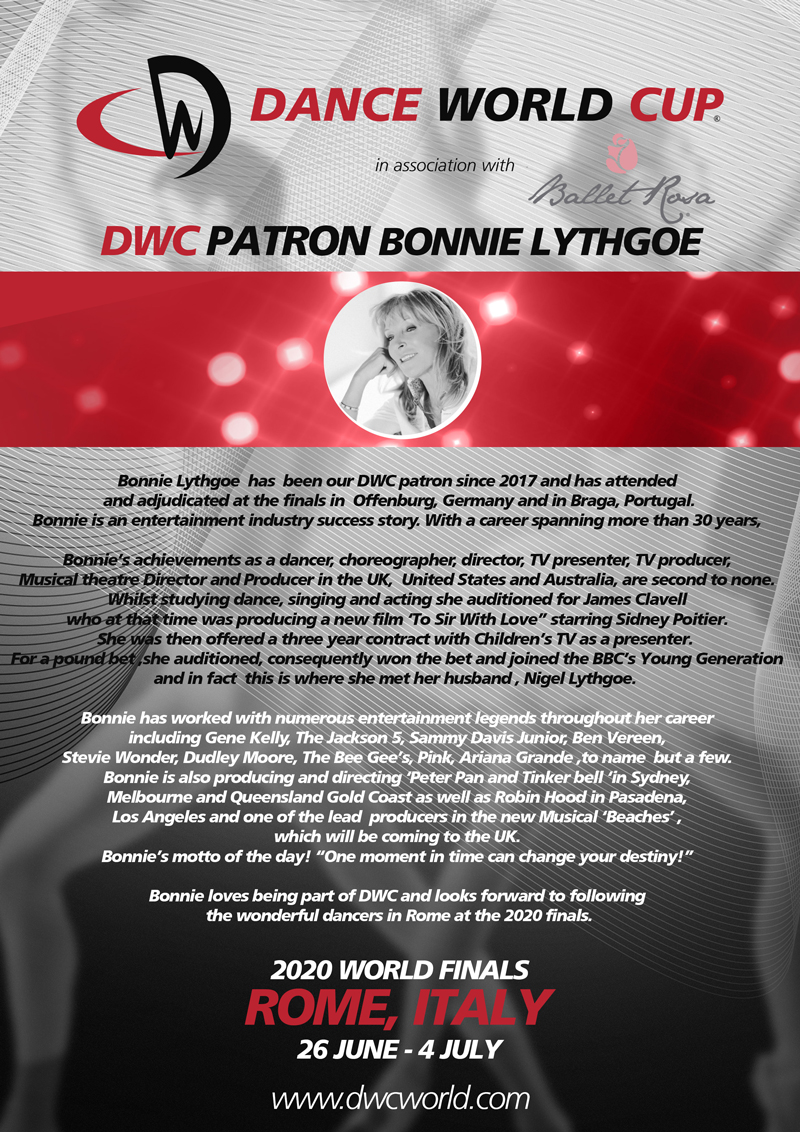 Bonnie Lythgoe has been our DWC patron since 2017 and has attended and adjudicated at the finals in Offenburg, Germany and in Braga, Portugal. Bonnie is an entertainment industry success story.
With a career spanning more than 30 years, Bonnie's achievements as a dancer, choreographer, director, TV presenter, TV producer, Musical theatre Director and Producer in the UK, United States and Australia, are second to none.
Whilst studying dance, singing and acting she auditioned for James Clavell who at that time was producing a new film 'To Sir With Love" starring Sidney Poitier.
She was then offered a three year contract with Children's TV as a presenter. For a pound bet , she auditioned, consequently won the bet and joined the BBC's Young Generation and in fact this is where she met her husband, Nigel Lythgoe.
Bonnie has worked with numerous entertainment legends throughout her career including Gene Kelly, The Jackson 5, Sammy Davis Junior, Ben Vereen, Stevie Wonder, Dudley Moore, The Bee Gee's, Pink, Ariana Grande, to name but a few.
Bonnie is also producing and directing 'Peter Pan and Tinker bell 'in Sydney, Melbourne and Queensland Gold Coast as well as Robin Hood in Pasadena, Los Angeles and one of the lead producers in the new Musical 'Beaches', which will be coming to the UK.
Bonnie's motto of the day! "One moment in time can change your destiny!"
Bonnie loves being part of DWC and looks forward to following the wonderful dancers in Rome at the 2020 finals.