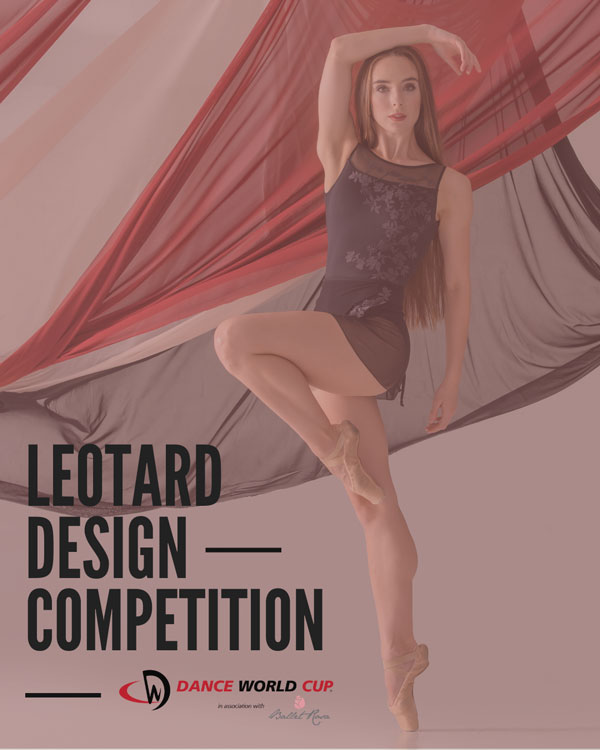 LEOTARD DESIGN COMPETITION
YOU could be the designer of the Official 2021 Dance World Cup Leotard! One lucky winner will be chosen for each category and all winners will receive free products and prizes from Ballet Rosa!
Our design contest starts today! Submit your designs by August 10th for a chance to have your leotard produced by Ballet Rosa and sold at the Dance World Cup Finals in 2021!
We are looking for creative and unique designs to produce FOUR styles:
Girls leotard, age 4-10

Women's leotard, age 11 and up

Boys shirt, unitard, biketard, etc. (you choose!), age 4-10

Men's shirt, unitard, biketard, etc. (you choose!), age 11 and up
Download your template from Ballet Rosa's Instagram bio and start designing! Anyone can participate – any age and country! Applicants may submit designs for more than one category.
The top 3 finalists of each category and age group will be chosen and announced on Instagram by Dance World Cup and Ballet Rosa on August 16th. You will then have a chance to vote for the winning leotards!
The winners will be announced on September 1st.
Design requirements, official rules and submission form also available in Ballet Rosa's bio.
We look forward to seeing your creations!